About the Film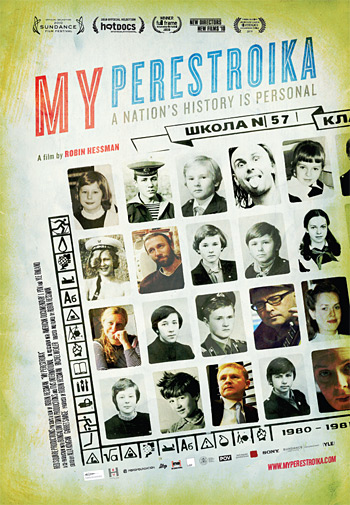 My Perestroika follows five ordinary Russians living in extraordinary times – from their sheltered Soviet childhood, to the collapse of the Soviet Union during their teenage years, to the constantly shifting political landscape of post-Soviet Russia.
At the center of the film is a family.
Borya and Lyuba are married and have a son, Mark. They are both history teachers at a Moscow school. As we are drawn into the fabric of their everyday lives, we hear stories of two very different Soviet childhoods: Lyuba was a conformist who would salute the TV when the Soviet hymn played, while Borya, living with the consequences of being Jewish, preferred to subvert the system whenever possible.
Their childhood classmates provide their own perspectives.
Andrei has thrived in the new Russian capitalism and has just opened his 17th store of expensive French men's shirts.
Olga, the prettiest girl in the class, is a single mother and works for a company that rents out billiard tables to bars and clubs all over Moscow.
Ruslan was a famous Russian punk rock musician who now plays the banjo in the metro for money.
At first glance, in today's Russia, everything is different from the lives they would have lived in the USSR. They are the invisible "ordinary" people of Moscow – raising their own children in a world they couldn't have imagined in their wildest dreams.
But have those changes ultimately proved to be only superficial?
In this film, there are no "talking head" historians, no expert witnesses, no omniscient narrator telling viewers how to interpret events. Instead, Borya, Lyuba, Andrei, Olga and Ruslan share their personal stories. They were the last generation of Soviet children brought up behind the Iron Curtain. They take us on a journey through their Soviet childhoods, their youth during the country's huge changes of Perestroika, and let us into their present-day lives.
The film interweaves their contemporary world with rare home movie footage from the 1970s and '80s in the USSR, along with official Soviet propaganda films that surrounded them at the time. Their memories and opinions sometimes complement each other and sometimes contradict each other, but together they paint a complex picture of the challenges, dreams, and disillusionment of this generation in Moscow today.